CFTR
From function to phenotype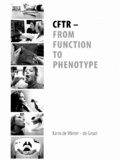 Promoter:

Prof.dr. C.K. (Kors) van der Ent

Co-promoter:

Dr. J.M. (Jeffrey) Beekman

Date:

May 13, 2019

Time:

14:30 h
Summary
CF is caused by 2 mutations in the CFTR gene (CFTR genotype). Different groups of mutations determine dysfunction of CFTR function. Disease severity and the clinical course (CF phenotype) of subjects with CF is determined by genetic, environmental and stochastic factors, and is highly variable between individuals.

In this thesis we have tried to unravel the complexity between CFTR genotype – CFTR function – CFTR phenotype a bit further. It is important to be able to measure CFTR function accurately, and to adequately determine disease severity and clinical response of an individual subject with CF. Especially at this moment as CFTR modulators are available to restore the disease in the basis. This thesis studies whether CFTR function measurements in intestinal organoids ('mini guts') are able to explain differences in clinical phenotype; also is the microbiome can be used as a new method to measure individual respiratory and intestinal outcome.

Forskolin induced swelling (FIS) of intestinal organoids as new biomarker of CFTR function has shown to be a good predictor of respiratory and gastro-intestinal disease severity in CF and can differentiate between individuals with identical genotype but different phenotype. Microbiota data can complement current clinical outcome parameters to better define respiratory or gastro-intestinal phenotype as they differ between health and disease or differ between upper and lower airways and between patients or can detect response to therapy (antibiotics, CFTR modulators).
These models will facilitate the development of future therapeutic and hopefully curative options for patients with CF.